No watches are valid as of Wed Aug 4 17:59:03 UTC 2021.No Mesoscale Discussions are in effect as of Wed Aug 4 17:59:03 UTC 2021.SPC 1630Z Day 1 Outlook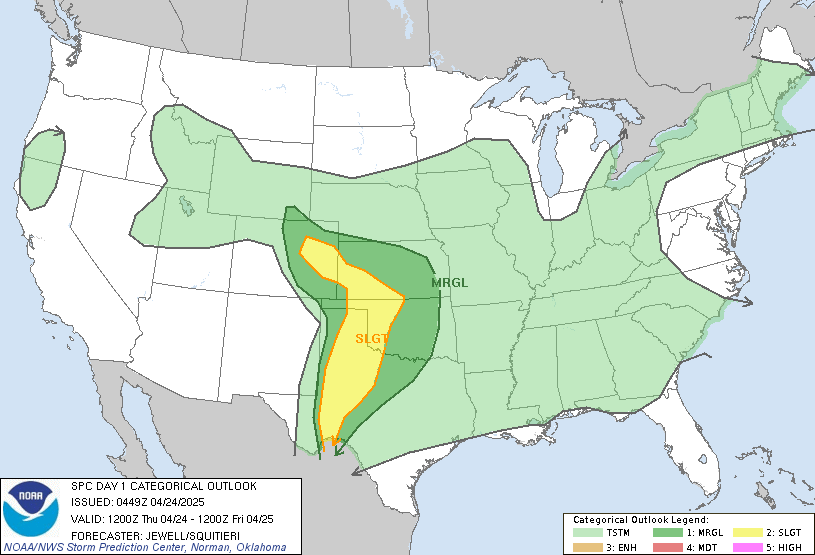 Day 1 Convective Outlook  
NWS Storm Prediction Center Norman OK
1130 AM CDT Wed Aug 04 2021

Valid 041630Z - 051200Z

...THERE IS A MARGINAL RISK OF SEVERE THUNDERSTORMS PARTS OF MT...

...SUMMARY...
Isolated severe thunderstorms are possible across parts of Montana
from mid-afternoon through this evening.

...MT...
A shortwave impulse near the WA/ID/BC border area will dampen as it
gradually slides east then southeast into MT. Isolated to possibly
scattered thunderstorms are expected downstream of this feature
later this afternoon and persisting into this evening. This
convection should be rather high-based as deeply mixed thermodynamic
profiles ensue at peak heating, with only weak buoyancy as MLCAPE
holds below 1000 J/kg. The somewhat more favorable overlap of
buoyancy with effective shear should occur across northwest MT just
ahead of the mid-level impulse. Here, a threat exists for marginally
severe hail in addition to isolated severe wind gusts. Farther east
in central MT, the wind hazard should dominate with small hail also
possible.

...Coastal southern New England...
Guidance differs with the potential inland penetration of a
surface-based warm sector tonight, ahead of a broad upper trough
over the eastern U.S. and embedded shortwave impulses along the
Eastern Seaboard. The 14Z RAP is more aggressive than the 12Z NAM
with this scenario, advecting low 70s surface dew points into
coastal southern New England overnight. Extensive stratiform and
embedded convective elements off the Mid-Atlantic and Northeast
coast at present suggests that this degree of destabilization
appears unlikely. Thus, have refrained from an upgrade to cat 1/MRGL
risk at this juncture.

..Grams/Squitieri.. 08/04/2021


SPC 1730Z Day 2 Outlook


Day 2 Convective Outlook  
NWS Storm Prediction Center Norman OK
1230 PM CDT Wed Aug 04 2021

Valid 051200Z - 061200Z

...THERE IS A MARGINAL RISK OF SEVERE THUNDERSTORMS OVER A PORTION
OF THE PACIFIC NORTHWEST INTO THE NORTHERN ROCKIES...

...SUMMARY...
Isolated severe storms capable of damaging gusts and hail are
possible from central Oregon into Idaho and western Montana
Thursday.

...Oregon into the northern Rockies...

Steep mid-level lapse rates will be in place Thursday from Oregon
into the northern Rockies, and diabatic heating/destabilization of
the boundary layers should result in deep mixing with dewpoints in
the 40s F supporting 500-1000 J/kg MLCAPE. A shortwave trough over
the eastern Pacific will move northeast into this region along the
northern periphery of an upper ridge. A corridor of deeper forcing
accompanying this impulse will likely contribute to widely scattered
thunderstorms developing over the higher terrain of ID and MT during
the afternoon and evening as well as farther west along a cold front
across OR. Some increase in deep shear will accompany the impulse
with 30-40 kt likely across ID into MT. High-based storms, some with
updraft rotation, will become capable of producing downburst winds
given the deeply mixed inverted-V boundary layers. Some hail may
also accompany this activity. Will maintain MRGL risk category for
now, but an upgrade to SLGT might be warranted in day 1 updates.

..Dial.. 08/04/2021


SPC Day 1 Fire Weather Outlook


Day 1 Fire Weather Outlook  
NWS Storm Prediction Center Norman OK
1100 AM CDT Wed Aug 04 2021

Valid 041700Z - 051200Z

No changes. Previous discussion follows.

..Bentley.. 08/04/2021

.PREV DISCUSSION... /ISSUED 1242 AM CDT Wed Aug 04 2021/

...Synopsis...
An upper-level trough off the northern California coast is forecast
to begin moving onshore over the next 24 hours. As this occurs, lift
ahead of the wave will support thunderstorm chances east of the OR
Cascades as well as increasing winds near the surface. Although some
precipitation has fallen over OR and adjacent areas of CA, NV, and
ID, fuels generally remain dry and will support another day of fire
weather concerns. 

...Eastern Oregon...
PWAT values have decreased over the past 24 hours across the Pacific
Northwest, but cooler temperatures aloft (noted in 00z soundings)
and lingering mid-level moisture are maintaining instability east of
the Cascades. Lift will begin overspreading the region by the late
afternoon, coincident with peak diurnal heating/boundary-layer
mixing. A mix of wet/dry thunderstorms is likely, and will pose a
fire weather concern given the generally dry fuels (outside of where
heavier rain has fallen over the past 24 hours). Thunderstorms are
expected into parts of ID and NV as well, but improving fuel
conditions over these areas precludes an expansion. 

...Northern Sierra....
Boundary-layer winds are forecast to increase over northern CA,
western NV, and far southern OR as the main trough begins to move
onshore this afternoon. Although backing winds in the lowest 1-2 km
may limit the propensity of stronger gusts, sustained winds near 15
mph gusting to 20-25 mph are probable. A combination of poor
moisture flux into the region and some degree of downslope
warming/drying will yield RH values in the single digits to low
teens. Recent fuel analyses continue to show very dry fuels in
place, and active fire behavior over the past 24 hours supports this
idea. While elevated fire weather conditions are possible as far
southeast as central NV, the Elevated risk area is maintained over
the northern Sierra and adjacent areas of NV/OR where fuels are more
receptive.

...Please see www.spc.noaa.gov/fire for graphic product...