No watches are valid as of Sun Dec 3 17:46:01 UTC 2023.No Mesoscale Discussions are in effect as of Sun Dec 3 17:46:01 UTC 2023.SPC 1630Z Day 1 Outlook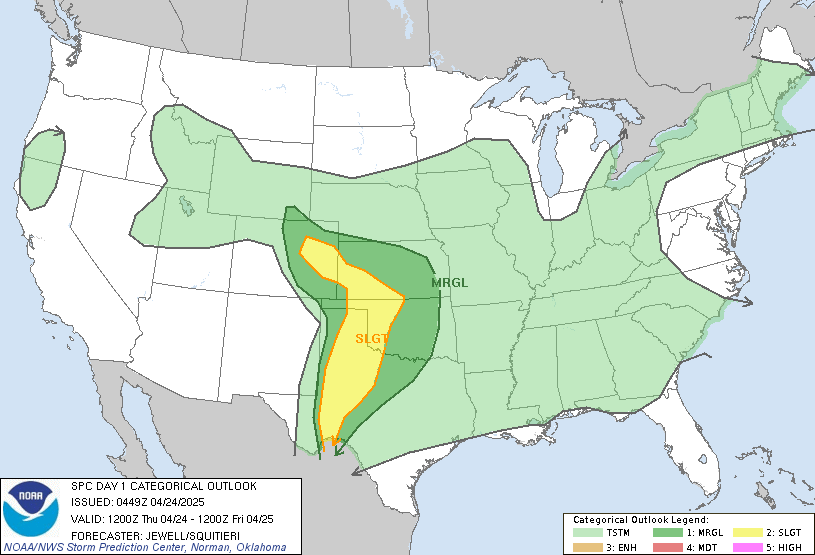 Day 1 Convective Outlook  
NWS Storm Prediction Center Norman OK
1018 AM CST Sun Dec 03 2023

Valid 031630Z - 041200Z

...THERE IS A MARGINAL RISK OF SEVERE THUNDERSTORMS THIS AFTERNOON
AND EVENING OVER PORTIONS OF WESTERN PENNSYLVANIA AND VICINITY...

...SUMMARY...
Isolated, marginally severe thunderstorms are possible over western
Pennsylvania and vicinity this afternoon.

...Upper OH Valley...
Morning water vapor imagery shows a fast-moving intense shortwave
trough over central IL.  This feature will become negatively tilted
this afternoon as it races eastward into parts of OH/PA/NY.  A
strong mid/upper level jet is associated with this system, with 90+
knot winds at 500mb and 150+ knots at 300mb providing significant
mesoscale forcing in the left-front quad of the jet as it tracks
into western PA around peak heating.  Most 12z models show the
development of scattered fast-moving showers and isolated
thunderstorms later today (mainly 20-01z), but luckily
thermodynamics are expected to be quite weak (CAPE values generally
200-500 J/kg and dewpoints only around 50F).  The combination of
very steep mid-level lapse rates, ambient vorticity, and strong lift
could result in funnel clouds or a brief tornado from this
convection, along with small hail and gusty winds.  However, the
overall severe threat appears marginal due to the weak instability.

..Hart/Lyons.. 12/03/2023


SPC 1730Z Day 2 Outlook


Day 2 Convective Outlook  
NWS Storm Prediction Center Norman OK
1049 AM CST Sun Dec 03 2023

Valid 041200Z - 051200Z

...NO SEVERE THUNDERSTORM AREAS FORECAST...

...SUMMARY...
Severe thunderstorms are not expected on Monday.

...Synopsis...
An upper-level trough will cover much of the central/eastern CONUS
on Monday. One embedded shortwave trough will move quickly from the
lower OH Valley toward the Mid Atlantic during the day, while an
upstream shortwave digs southeastward from the northern Great Plains
toward the mid MS Valley. 

Generally dry and stable conditions will cover most of the CONUS,
resulting in limited thunderstorm potential. Weak destabilization
and ascent attendant to the shortwave initially over the OH Valley
may support sporadic lightning flashes with low-topped convection
from southern IN through KY into western VA. Otherwise, while weak
convection may affect coastal regions of the Pacific Northwest and
also parts of central/south FL, thunderstorm probabilities appear
low across these areas at this time.

..Dean.. 12/03/2023


SPC Day 1 Fire Weather Outlook


Day 1 Fire Weather Outlook  
NWS Storm Prediction Center Norman OK
1048 AM CST Sun Dec 03 2023

Valid 031700Z - 041200Z

...NO CRITICAL AREAS...

No changes. See previous discussion below.

..Bentley.. 12/03/2023

.PREV DISCUSSION... /ISSUED 1226 AM CST Sun Dec 03 2023/

...Synopsis...
Enhanced west to northwesterly upper-level flow across the
Rockies into the High Plains will support dry downslope flow in to
the Central High and Southern Plains this afternoon. Relative
humidity reductions to around 15-20 percent with sustained winds
around 20-25 mph will overlap across the Texas/Oklahoma Panhandles
into far western Texas. While fuels in these regions remain above
seasonal average for moistness, some drying can be expected in
dormant fine fuels. Given low confidence in status of fuels, no
areas have been included with this outlook, though Elevated
meteorological conditions are possible.

...Please see www.spc.noaa.gov/fire for graphic product...