No watches are valid as of Tue Sep 22 19:41:02 UTC 2020.No Mesoscale Discussions are in effect as of Tue Sep 22 19:41:02 UTC 2020.SPC 1630Z Day 1 Outlook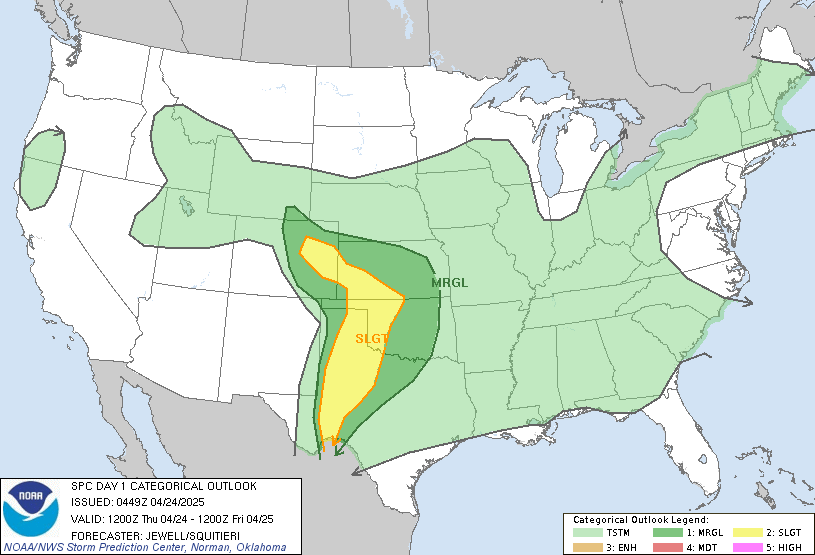 Day 1 Convective Outlook  
NWS Storm Prediction Center Norman OK
1109 AM CDT Tue Sep 22 2020

Valid 221630Z - 231200Z

...THERE IS A MARGINAL RISK OF SEVERE THUNDERSTORMS OVER PORTIONS OF
THE UPPER TEXAS AND SOUTHWEST LOUISIANA GULF COAST....

...SUMMARY...
A brief/weak tornado cannot be ruled out today along the upper Texas
and Louisiana coasts in association with Tropical Cyclone Beta.

...TX/LA...
Scattered outer bands of TD Beta continue to affect parts of the
upper TX Gulf Coast and coastal LA.  Shear profiles in this area are
minimally strong to support rotating updrafts or brief tornadoes in
the more robust cells, but so far activity has been weak.  Continued
pockets of daytime heating may be sufficient for some
intensification of storms this afternoon in areas where the
mid/upper 70s dewpoints are present.  However, the overall threat of
brief spin-ups appears marginal.

..Hart/Leitman.. 09/22/2020


SPC 2000Z Day 1 Outlook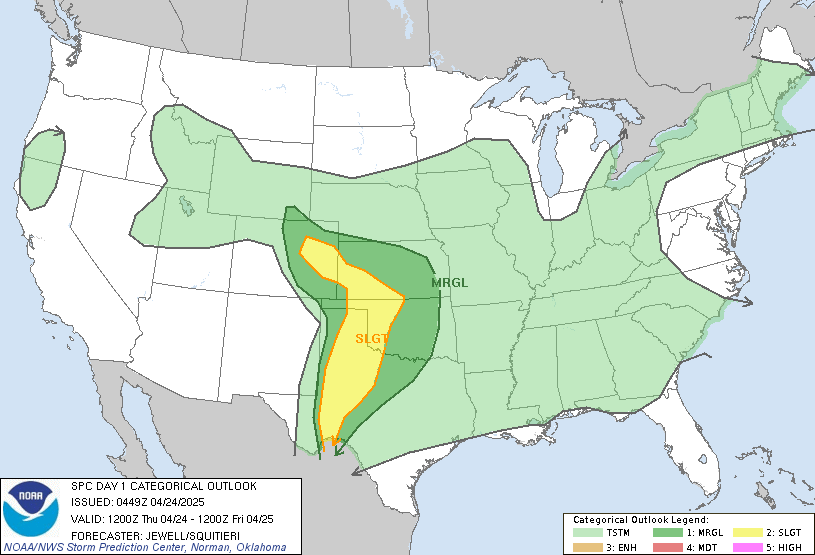 Day 1 Convective Outlook  
NWS Storm Prediction Center Norman OK
0233 PM CDT Tue Sep 22 2020

Valid 222000Z - 231200Z

...THERE IS A MARGINAL RISK OF SEVERE THUNDERSTORMS FROM THE UPPER
TEXAS COAST REGION EAST ACROSS PORTIONS OF COASTAL LOUISIANA...

...SUMMARY...
A brief/weak tornado cannot be ruled out today along the upper Texas
and Louisiana coasts in association with Tropical Cyclone Beta.

...Discussion...
Current forecast reasoning remains representative of convective
evolution across the upper Texas Coast region, and points east.  As
such, no changes to the existing MRGL risk area appear necessary at
this time.

..Goss.. 09/22/2020

.PREV DISCUSSION... /ISSUED 1109 AM CDT Tue Sep 22 2020/

...TX/LA...
Scattered outer bands of TD Beta continue to affect parts of the
upper TX Gulf Coast and coastal LA.  Shear profiles in this area are
minimally strong to support rotating updrafts or brief tornadoes in
the more robust cells, but so far activity has been weak.  Continued
pockets of daytime heating may be sufficient for some
intensification of storms this afternoon in areas where the
mid/upper 70s dewpoints are present.  However, the overall threat of
brief spin-ups appears marginal.


SPC 1730Z Day 2 Outlook


Day 2 Convective Outlook  
NWS Storm Prediction Center Norman OK
1226 PM CDT Tue Sep 22 2020

Valid 231200Z - 241200Z

...THERE IS A MARGINAL RISK OF SEVERE THUNDERSTORMS ACROSS PORTIONS
OF EAST CENTRAL/NORTHEASTERN MINNESOTA AND ADJACENT NORTHWESTERN
WISCONSIN...

...SUMMARY...
A few strong to severe storms may occur Wednesday evening across
parts of northeastern Minnesota and into northwestern Wisconsin.
Large hail should be the main threat, along with potential for a
strong gust or two.

...Synopsis...
Weak flow aloft will prevail over roughly the southern 2/3 of the
CONUS this period, with T.D. Beta -- moving slowly northeastward
across east Texas and Louisiana through the period -- the primary
feature of interest.  Please refer to the latest forecast
information from the National Hurricane Center, regarding T.D. Beta.

Farther north, a short-wave trough will advance steadily eastward
across the north-central portion of the country, ahead of a
larger/stronger trough over the Gulf of Alaska.  A short-wave piece
of the larger trough is forecast to shift inland into the Pacific
Northwest overnight.

At the surface, a cold front is forecast to advance across the
northwestern states ahead of the aforementioned trough, while a
weaker low lingers in the vicinity of the mid Missouri Valley.  A
warm front extending east-northeastward from this low to the Lake
Superior vicinity may focus a small area of strong to severe storms
during the second half of the period.

...Upper Mississippi Valley region...
Isolated evening thunderstorms are expected to develop across
portions of east central and northeastern Minnesota, and then spread
into northwestern Wisconsin overnight, near a warm-frontal boundary
forecast to extend east-northeastward across this area, east of a
weak mid Missouri Valley surface low.  

Though westerly mid-level flow near 40 kt across the area suggests
shear sufficient for organized storms, modest CAPE is expected,
which should hinder overall storm intensity/severe potential.  Thus,
will maintain only 5%/MRGL risk for hail, and possibly and stronger
wind gust or two.

...Louisiana vicinity...
As Beta drifts slowly northeastward across the Sabine River Valley
area, bands of convection will continue spreading across the lower
Mississippi River Valley area.  Widespread clouds should largely
hinder potential for any appreciable heating/destabilization, and
thus expect convection to remain weak.  Though low-level shear is
expected to be sufficient for some low-level rotation in any
stronger/sustained convective cell, risk for a brief/weak tornado
appears too low at this time to warrant introduction of a 2% tornado
probability/MRGL categorical risk area.

..Goss.. 09/22/2020